Journeys of Destiny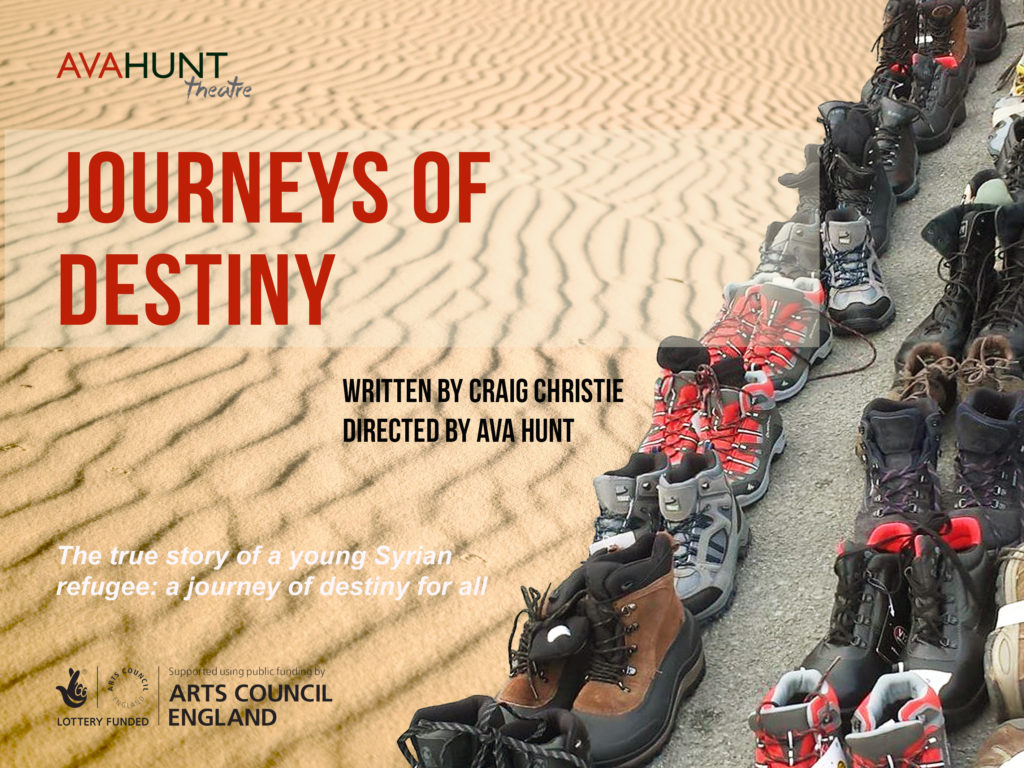 2019
The true story of Saad Alkassab, a young Syrian refugee: a journey of destiny for all.
Meet 14 year old Saad.  He's had to pack up all his hopes and dreams – like growing up with his friends and family and playing for Manchester United – into whatever he can carry.  Along with his family, he is embarking on a journey into the unknown that will change his world forever. Journeys of Destiny is a new play for schools and community audiences, performed by professional actors and young people.  It tells the astonishing true story of a young Syrian refugee, Saad Al-Kassab, whose life would never be the same after war broke out in his home city of Homs.
Using songs, Saad's own testimony, and the words of our young cast, the play follows journeys from the known to the unknown – whether changing schools, changing homes or changing countries.  Journeys of Destiny explores what we need to take with us to keep us resilient, to navigate a world of change and achieve our dreams.   he Told by a professional cast with young people: songs, music and verbatim material.
Impact
This production toured throughout National Refugee Week 2019 to audiences of more than 2,000 with six hundred young people participating and performing.     Following workshops, rehearsals and performances to peers and families the children reflected on what they had gained from the production. 70% of children reported increased knowledge and understanding of why and how people become refugees. The company also asked the participating children about their hopes and fears of transition to secondary school:
58% of young people felt differently about their own transition to secondary school as a result of participating
Journeys of Destiny came as a result of two years of international research and new creative collaborations with schools, and young people who participated and contributed to the development of the production.
Creating Community Resilience: Theatre for Young Audiences and the Mental Health Crises National Drama Research on-line journal
The mental health crisis is thought to affect 10-20% of children and young people in the world (World Health Organization, 2019). It is clear that this is something that needs addressing in many ways, but importantly in schools. So, how can Theatre for Young Audiences (YTA) make a contribution? In this article, we will explore how visiting theatre companies can regain a foothold in schools, focusing on the specific example of Ava Hunt's most recent project, Journeys of Destiny and using Danny Braverman's Dialogue-Across-Difference framework. This collaboration was inspired by the pioneering work of our colleague and friend, David Johnston, who passed away in November 2017. Johnston's work, as Artistic Director of Theatre Centre from 1977 to 1986, presents us with an approach that we believe can act as an inspiration for today.
Danny Braverman and Ava Hunt
Writer & Composer: Craig Christie
Director & Producer: Ava Hunt
Cast: Louis Gaudencio (Saad), Yildiz Hussein (Amal), Karim Hayada (Omar)
Producer: Frances Watt
Workshop Leaders: Sarah Bradnock, Becky Matter, Suki Sidhu, Michael Johnston, Frances Watt
Lighting & Sound Design: Andy Purves
Set, Costume, Props Design: Ica Neimz
Movement Director: Kitty Winter
Voice Coach: Marianne Samuels
Company Manager: Moby Renshaw
Photographs: Chris Webb
17 Jun 2019

Ashover Primary School

19 Jun 2019

Great Hucklow and Peak Forest Primary Schools

20 Jun 2019

Derby Theatre

21 Jun 2019

Attenborough Arts Centre, Leicester

24 Jun 2019

Bemrose Primary School, Derby

25 Jun 2019

Brailsford/Bradley CE Primary Schools

26 Jun 2019

Redwood Primary School

27 Jun 2019

Sharley Park Primary School

1 Jul 2019

Cavendish Primary School

3 Jul 2019

New Bolsover Primary School

4 Jul 2019

Lawn Primary School

5 Jul 2019

Radford Primary Academy