I Feel Like Dancing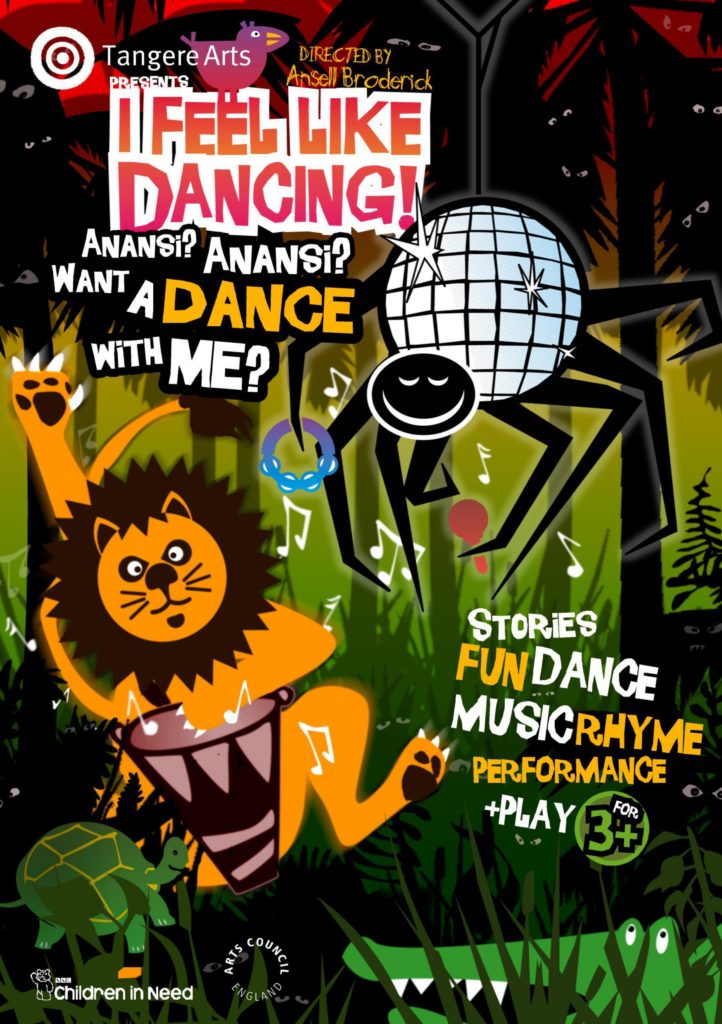 2008
Inspired by traditional stories
I Feel Like Dancing was a Nursery show that told traditional African stories through dance, music and song.
Anansi?  Anansi?
Want a dance with me?
Who's that hiding behind the trees?  What was that noise?  Who is playing in the jungle?
Join Anansi the spider, the talking frog, tortoise, crocodile, elephant and birds. Listen to their stories, hear their laughter and join in with their dances as they play together one hot day in the steamy African jungle.
A sun-soaked adventure – with live drumming and music, the animals skip, hop and jump for joy, telling traditional African children's stories in a visual expressive and musical way.
Suitable for 3-6 year olds, the performance is accompanied with a participatory workshop with songs, music and dance.
"I feel like Dancing" is a fun exploration of cultural stories, diversity and playing together linking to the KS1/Foundation PSHE curriculum and Every Child Matters.
Commissioned by Tangere Arts with Ava Hunt
Music, Choreography and Direction by Ansel Broderick
Performers Duanne Hannibal, Ava Hunt
"Children loved the experience" Heanor Langley Infant and Nursery School

"A vibrant performance that our pupils were able to play a full part in. Excellent – Thankyou." Nethergate School, Clifton

"More theatre like this please!" Beaufort Primary School

"We all thoroughly enjoyed the performance. I have never seen the children so engaged! Thank You!" Eastwood Infant and Nursery School

The production was a fantastic experience for children, staff and governors. The children started to move and dance spontaneously to the music and rhythm, laughed, shouted out and joined in. The staff were inspired to continue the learning journey of the children and build on the dance, rhythm and creative expression that the children had started to experience. The opportunity to have 2 black actors as part of the production enable our children (from a predominantly white area) to have fantastic positive black role models. Thank you. Angela Colmar, Headteacher
"Many built a plane when they returned to the classroom and travelled to Africa!" Tour feedback

"Perfect! Good visually and interactive. Liked the way the characters behaved, particularly in relation to the importance of listening." Tour feedback

"Noise, movement, music and excitement excellent for special needs."Tour feedback

Yesterday my daughter and I attended an excellent performance of I Feel Like Dancing, at the Broadway Theatre in Barking.  My daughter was captivated by the scenery and got totally involved in the interactive performance performed by the Tangere Arts team. The performance was watched by children 3+ and it was lovely to see a group of children from the Abbey Children's Centre Day Nursery enjoying the performance. It was wonderful to see little ones who were at first reluctant to even sit anywhere near the performers actually dancing at the end of the performance.About my area, Dagenham website