Face 2 Face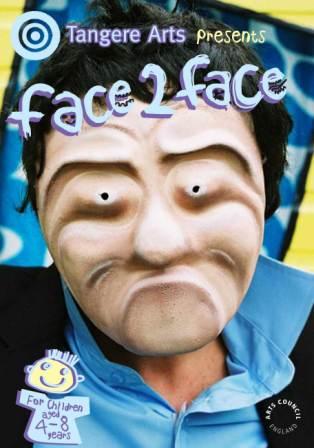 2004
As co-founder of Tangere Arts, Ava was responsible for commissioning shows for young audiences. Funded by Arts Council England, Face 2 Face was a full mask piece which toured to Nurseries and Key Stage One Primary Schools throughout Derbyshire and also performing at Leicester Comedy Festival.
Face to Face told the story of a young boy who is obsessed with Spiderman and what happens to him one day at school. Face2Face is a lively show using mask, strong visual imagery, and music that brings together an exciting collection of fun and playful characters who negotiate new relationships and run into difficulties along the way! 
Face 2 Face was a playful piece that explored relationships and resolving conflict.  Ava Hunt Theatre always has theatre for young audiences at the heart of its work and practice, especially that for 3-6 year olds. 
Commissioned by Tangere Arts and Ava Hunt
Directed by Rachel Savage (Vamos Theatre)
Performers: Ava Hunt and Gary Lagden
8 Jun 2004

Dronfield Junior School

9 Jun 2004

Dale Primary School

10 Jun 2004

Portland Primary School

11 Jun 2004

Southglade Junior School

18 Jun 2004

Buxton Opera House

18 Jun 2004

Matlock Live Festival

19 Jun 2004

One World Festival, Thoresby

22 Jun 2004

Ordsall Primary School

23 Jun 2004

Hartington CE Primary School

23 Jun 2004

Crich and Carr CE Primary School

24 Jun 2004

Barrow Hill Primary School

24 Jun 2004

Bakewell Methodist School

25 Jun 2004

Great Hucklow Primary School

28 Jun 2006

Radford Primary School

29 Jun 2004

Heath Primary School

30 Jun 2004

Apperknowle Community Primary School

30 Jun 2004

Creswell Junior School

1 Jul 2004

Brimington Junior School

5 Jul 2004

Breadsall Hill Top Infant School

6 Jul 2004

Rosslyn Infants

7 Jul 2004

Beaufort Community Primary School

8 Jul 2004

Derwent Community School

9 Jul 2004

Gamesley Early Excellence Centre

11 Jul 2004

Bolsover Children's Festival

13 Jul 2004

Grindleford Primary School

14 Jul 2004

Ashbrook Infant School

15 Jul 2004

Kirk Ireton CofE Primary School

16 Jul 2004

Bretton Hall - Leeds University

17 Jul 2004

Pauper's Pit, Buxton Fringe Theatre Festival

19 Jul 2004

Shepherd School

22 Jul 2004

Rufford Park

23 Jul 2004

Rufford Park

24 Jul 2004

Rufford Park

29 Jul 2004

Living Derwent

30 Jul 2004

Living Derwent

2 Aug 2004

Living Derwent

4 Aug 2004

Victoria Hall, Glossop

5 Aug 2004

Buxton Opera House

6 Aug 2004

The Medway Centre, Bakewell
Face2Face is a play entirely without words and an audience of children were very tickled by its performance. It is very absorbing, very funny and done on the simplest of sets. The Stage (24 June 2004)