Acting Alone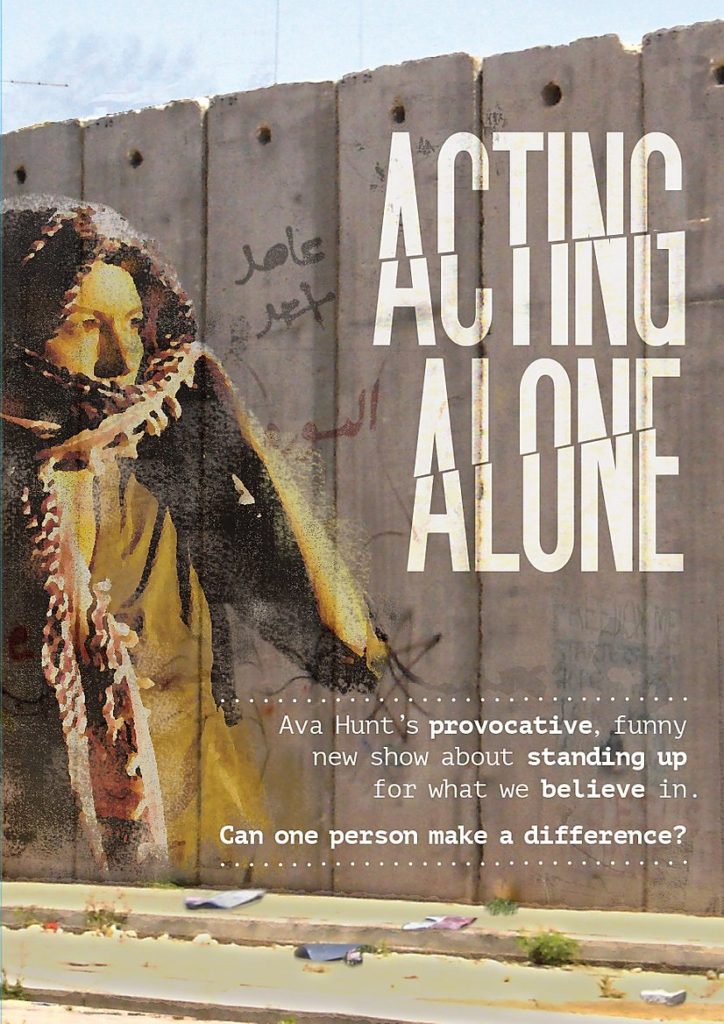 2015/2016
Acting Alone was commissioned by Amnesty International Wirksworth Derbyshire in 2014 and performed at the Wirksworth Festival in September.  This pilot production coincided with the 2015 Gaza Conflict known as Operation Protective Edge.  This solo autobiographical piece received Arts Council funding to tour nationally and internationally (New Zealand, USA, Sweden and Ireland) in 2016.  The show performed in schools, theatre and community venues as well as Edinburgh Festival and Buxton Festival in 2015.  In 2016 the show performed to a 1,000 people including being longlisted for Amnesty's Freedom Award, performing at the Just Festival to sell out audiences, and receiving a 5 star review.
'Acting Alone' tells the stories of some of the people Ava met on her visit to Palestine. In her unique performance style, she weaves these together with tales of the frequently hilarious and occasionally downright bizarre experiences of touring as an actor and performing alone. The play is a personal story, at times heartbreaking and at times funny, that asks questions of the audience.
Can one person actually make a difference?
Written & Performed by Ava Hunt
Directed & Dramaturgy Tilly Branson
Sound Design Andy Purves
Awards
Long-Listed for Amnesty Freedom of Expression Award 2016
14 Sep 2014

Wirksworth Festival

11 Nov 2014

Doncaster University

2 Jul 2015

Derby Theatre Studio

3 Jul 2015

Nottingham Playhouse Studio

14 Aug 2015

Edinburgh Fringe Festival

5 Sep 2015

Cork University, Ireland

15 Oct 2015

Kardomah 94 Hull

10 Nov 2015

Auckland University, New Zealand

27 Nov 2015

Kesteven and Grantham Girls School

20 Jan 2016

Clarendon College, Nottingham

22 Jan 2016

Buxton Opera House Studio

30 Jan 2016

Chapel Arts Centre, Halifax

9 Feb 2016

Belper School and Sixth Form

4 Mar 2016

Labour Party, Chesterfield

5 Mar 2016

Merini Theatre, Somerset

23 Apr 2016

New York University, Education Conference

13 May 2016

Drill Hall, Lincoln

21 May 2016

Llanellii Arts Centre, Wales

28 May 2016

FONT Festival, Nottingham

10 Jun 2016

Brockley Jack, London

11 Jun 2016

Brockley Jack, London

11 Jun 2016

International Theatre Research Conference, Stockholm

27 Jun 2016

Lincoln University Conference

22 Jul 2016

Story City Fest, Attenborough Arts Centre

5 Aug 2016

5-13 August: Just Fest/Edinburgh Fringe Festival

13 Jun 2017

Encore Club, Nottingham Playhouse

6 Apr 2018

Story Telling Conference, Cardiff

15 Jul 2015

Buxton Fringe Festival
Audiences Review of 'Acting Alone'

Check out our Audiences Review of the performance 'Acting Alone' after attending the first night on Friday! Don't miss this captivating and thought-provoking one-woman piece still showing on August 9th, 10th, and the 12th at 5.50pm, as part of Just Festival and Edinburgh Festival Fringe #FromTheEdge

Posted by Just Festival on Tuesday, 9 August 2016
CompellingJohn Godber

It is rare to be so engulfed by such a beautiful story...Audience

More than just story-telling, more than a playLeft Lion

I cried few times, . made me think about who am IAudience

Hunt is an accomplished theatre makerFringe Guru